Stars, athletes and numerous of Boston's best-known native sons and daughters responded with grief, horror, pleas for prayers and messages of hope in the wake of the Boston Marathon bombings.
After the Boston marathon bombings, stars took to Twitter and other forms of social networks to reveal their sympathy and grief for the victims. New Kid on the Block's Joey McIntyre and 'Survivor' champion Ethan Zohn ran in the race, and shared their confusion and dismay, together with stars like John Krasinski, Conan O'Brien and Mindy Kaling.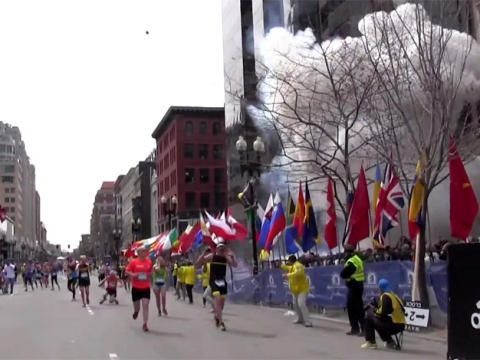 Perhaps the most thoughtful Facebook post, which was shared more than 150,000 times, was from comedian Patton Oswalt.
On Friday it seemed all of America was glued to television, online news sites and Twitter. Cheers broke out in many places late on the evening of Friday, April 19, as the 2nd suspect in the Boston Marathon bombings was discovered, captured, and apprehended.
There was a lot suspense, intrigue, and angst throughout the day while the manhunt occurred for the 2nd suspect in the Boston Marathon bombings. After 19-year-old Dzhokar Tsarnaev was caught, it seemed that everybody visited Twitter to express their relief. Celebrities, including Kim Kardashian, Real Housewives and Patton Oswalt, tweeted out their emotions, congratulations and comments.
As people around the country applauded at the end of the search for the Boston Marathon bombing suspect, hundreds more were online donating to help those hurt in the blast that triggered that manhunt.
Friends of the injured started crowd funding pages on sites like gofundme.com and giveforward.com to help cover medical costs. Both sites use safeguards to ensure that the money you donate goes to the intended victims.
Officials ask if you donate to a site, to be vigilant and make sure your donation goes where it should.