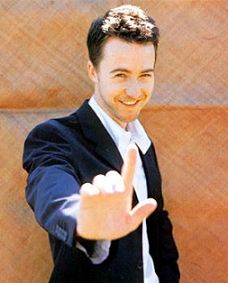 Celebrities to play Words With Friends for charity
Chicago Daily Herald reported
Edward Norton, Jonah Hill, Snoop Dogg and several other stars are slated to play in a celebrity tournament of the popular online game "Words With Friends" for charity.
The celebs will begin facing off against each other in matches of Zynga's Scrabble-like word-building game on Thursday.
Norton, who is playing for the Maasai Wilderness Conservation Fund, is confident that he will dominate the tournament, which also includes such celebrity players as Eva Longoria, Kristen Bell and John Legend — but not Baldwin — vying for $500,000 in prize money for their charities from American Express.
"I have to give myself timeouts on `Words With Friends,"' said Norton in a telephone interview Monday. "I've gone through phases where I'm like, `What am I doing? This is much too much of my day."' "Words With Friends" players will be able to join their favorite stars' teams during the "Words With Friends Celebrity Challenge," as well as watch the celebrity matchups online and donate to their charities through Norton's fundraising site, CrowdRise.com. "We had the idea to do a celebrity tournament some time ago when it became apparent that the game was a hit among celebrities," said Travis Boatman, senior vice president of mobile at Zynga Inc. "It seems like everyone from Katie Couric to Snoop Lion is into the game.
It's really inspirational for the team to see how `Words With Friends has become part of the cultural mainstream, and I think it has struck a chord because it's not just a game, it's a way for people to connect and keep in touch with each other." In the first round, Norton said he'll face Boston Celtics captain Paul "The Truth" Pierce, who is playing for his foundation, The Truth Fund. "I think it's going to be a tough first round for him," teased Norton. "I think it's great that he has a cause he supports, and I hope the amount he gets from just the first round is going to make him happy because I don't think it's going to go past there."