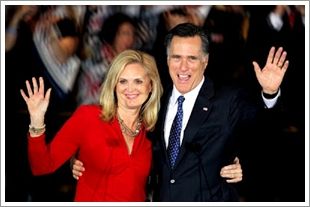 Celebrities drawing attention to multiple sclerosis a sign of hope for N.J ...
NorthJersey.com reported
The former is a rocker who once bit the head off a bat and starred in his own reality television series, while the latter was a titan of Bain Capital and now Republican candidate for president.
Both are part of the 1 percent.
But beyond that, each has a family member diagnosed with multiple sclerosis. For Ozzy, it's son Jack Osbourne, 26, who learned in June that he has MS after partial blindness in his right eye led him to seek a doctor's care.
Word of the diagnosis came two weeks after his fiancée, Lisa Stelly, gave birth to their daughter. "I was just angry and frustrated and kept thinking, 'Why now?'x'' he told People magazine.
For Mitt, it's wife Ann Romney, 63, whose Republican National Convention speech, aimed at humanizing the candidate, scoffed at the notion that theirs is a "storybook marriage." Those storybooks, she said, "never seemed to have chapters called 'MS' or 'Breast Cancer.'x"
Her husband's steadfastness through her illnesses, she implied, provided ample evidence to voters that "this man will not let us down." And her interest in horses, including part ownership of a dressage horse that competed in the London Olympics, also made the public aware of an unusual therapy - horseback riding.
She rides often as a way of treating MS symptoms, including problems with balance and muscle tone. Those serving the MS community welcome celebrity attention to an all-too-common yet frequently misunderstood disease.
More than 400,000 Americans, including at least 13,000 in New Jersey, are affected by multiple sclerosis, according to the National Multiple Sclerosis Society.
Women are more than three times more likely than men to be diagnosed. The typical age of diagnosis is between 20 and 40. "Any celebrity who has MS and talks about it is just very helpful to increase awareness of the disease," said Dr. Mary Ann Picone, a neurologist and medical director of the Holy Name Medical Center MS Center, one of five such centers in the state. "There are still quite a number of people who have no idea what MS is."