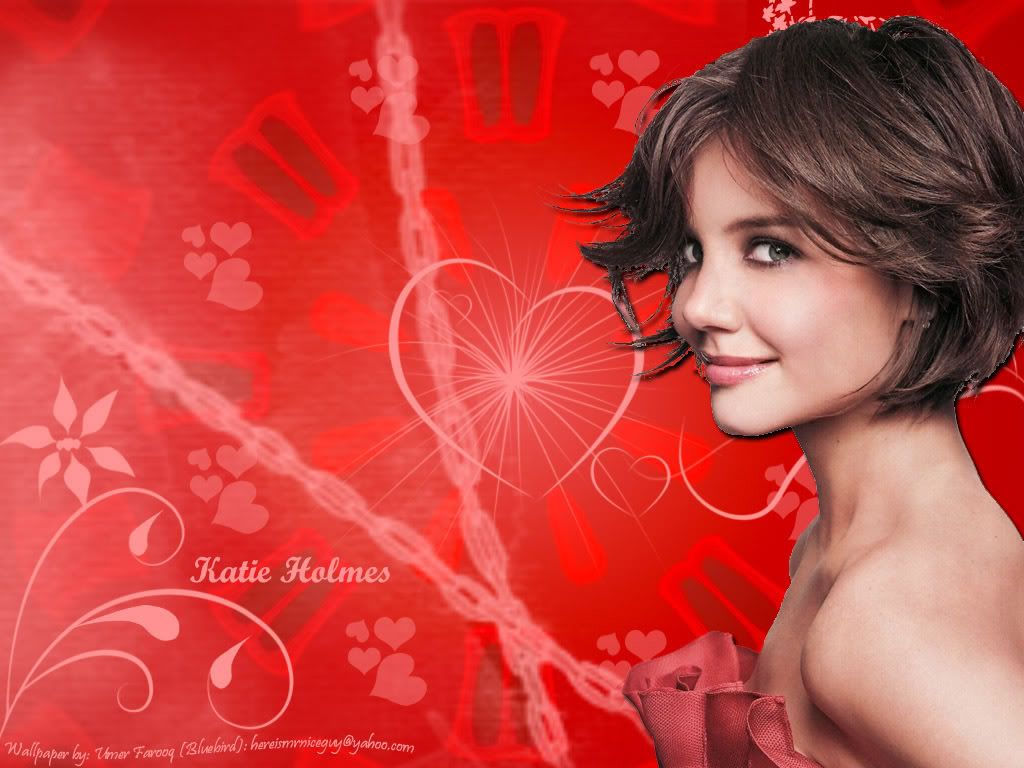 Katie Holmes is newest star Fashion Week designer
Bellingham Herald reported
Katie Holmes greeted well-wishers in a black leather blazer and gold beaded heels as she became the latest celebrity to take a serious stab at fashion with her Holmes & Yang preview at New York Fashion Week on Wednesday.
The celebrities who once lined the front rows of these seasonal previews in party dresses have increasingly made their way backstage into positions of power.
Celebrity names are commonplace on mass-market brands: The Kardashian sisters, Venus Williams, Jennifer Lopez, Jessica Simpson, Avril Lavigne, Daisy Fuentes, Heidi Klum and reality stars Whitney Port and Lauren Conrad each have department-store brands.
But a handful have also become serious fashion forces. Mary-Kate and Ashley Olsen are among the most imitated - or sincerely flattered - U.S. designers for their brand The Row, and this year were named top womenswear designers by the Council of Fashion Designers of America. Victoria Beckham's previews are among the week's most hotly anticipated, and paparazzi-free.
Gwen Stefani, Nicole Richie and celebrity stylist Rachel Zoe have also pulled away from the pack.
"The lines that are successful are very authentic," said Susan Kaufman, editor in chief of People StyleWatch. "The key is the celebrity being involved, being involved in the look and the concept, and to be proud to wear the clothes."
On that measure, Holmes seems ready to join the club. Showing at Mercedes-Benz Fashion Week seems a major commitment to the brand. "It was very clean but with a cool factor," Kaufman said. "I can easily see her (Holmes) wearing it."
MICHAEL KORS
Michael Kors' sunny disposition found a home in Southern California for the upcoming spring fashion season. He turned out an optimistic, cheerful and modernist collection that he said was inspired by the architecture, attitude and mostly the weather he enjoys every time he makes a trip to the West Coast.
"You could be sitting at the Beverly Hills Hotel, by the pool, and you could find this entire palette whether it's the palm green, the turquoise of the pool, the yellow of the sky - of the sun," he said in a backstage interview. "And I love all the architecture that we see whenever I go out to California. ... You're seeing a lot of that kind of geometry play into the collection here."
Stripes were strong, and he opened the show with a female model in a red-and-navy striped bodysuit with a zip-front navy skirt with a crisp white belt, while her male runway companion had on a green-and-navy striped pullover and striped pants. On later outfits Kors played with the proportion of the stripes, mixing thick and thin, and even horizontal and vertical.
Kors said he purposely included bright colors and fun details on clothes that, while technically for spring, get shipped in February.
OSCAR DE LA RENTA
Latex and leather: That's what keeps Oscar de la Renta modern while maintaining his position as the godfather of uptown style.
On his runway Tuesday evening, de la Renta equally paid homage to the decorative and frothy styles that have been his hallmark for more than four decades as well as the new technologies that keep fashion ahead of the pop culture curve.
One of the most remarkable looks was a two-piece dress made of ivory silk faille and with a feminine peplum around the hips that also featured a top layer of a latex flower appliques that could have been the icing on the most delicious cake.
Leather has been a staple of this round of previews for editors, stylists and retailers, but de la Renta took the risk with latex, which actually seemed even lighter and more supple than the buttery leathers the crowd has seen.
OSCAR DE LA RENTA CHILDRENSWEAR
Like a proud grandfather, de la Renta beamed Wednesday as bite-size models showed off his first full children's collection for spring, a garden party of floral and lace party dresses for girls and classic layered looks for boys.
One lucky little model hitched a ride in a wagon painted in a blue petal design to complement her red dress in the same print. Two boys toted skateboards for their strut down the runway and two others glided on scooters.
Some had their end-of-runway pause before the cameras down like the bigger pros - and all wore huge smiles.
De la Renta launched a small collection of kidswear for spring of this year. Generally, de la Renta children's party dresses last season didn't exceed $350 - far from the priciest in the lucrative toddler-with-bucks market.
BETSEY JOHNSON
Betsey Johnson threw herself a big, crazy 70th birthday party with pal Cyndi Lauper belting "Girls Just Wanna Have Fun" and confetti-slinging models prancing decade-by-decade down a runway in her wild clothes, including one clutching a not-happy-looking baby pig.
Johnson's grown daughter Lulu popped out of a huge faux birthday cake on stage and watched with her two young kids as grandma performed her signature cartwheel and splits.
If anybody deserves a night out, it's the flamboyant Johnson, a breast cancer survivor who lost control of her signature boutiques after Betsey Johnson LLC filed for Chapter 11 bankruptcy protection in April.
The brand will continue on a wholesale basis and online, with moderately priced clothing sold in department stores, along with accessories and other licenses.
So why not celebrate? Huge video displays offered glimpses of her rock roots in the swinging '60s, as models held up glitter-lettered signs marking the decades, culminating in new clothes for spring with a princess theme.
Johnson's actual birthday is Aug. 10, 1942, but who's counting.
HOLMES & YANG
Holmes might have just tipped off the paparazzi on how to find her: They should look for a woman a camel-colored suede capelet with red shorts, or, if it's later in the day, maybe a strapless jumpsuit with beaded fringe running down the side.
Holmes and her design partner and longtime stylist, Jeanne Yang, didn't have a runway, just 14 models on pedestals.
One wore a black leather lingerie-style camisole with an olive silk button-front maxi skirt, and another had on a black lace slouchy blazer with black lace short - an outfit right on trend with what tastemakers have been seeing this round of previews.
Many of the outfits hit on the menswear silhouettes and luxury fabrics Holmes favors.