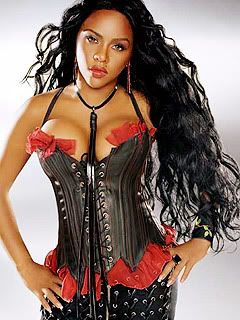 Black Celebrities: Plastic Surgery Gone Awry
The Root reported
A recent Washington Post and Kaiser Family Foundation survey found that black women are heavier and happier with their bodies than white women are. It is common knowledge in the Diaspora that women with a "little meat on their bones" are desirable and considered sexy. The findings of the survey aren't that earth-shattering for black people.
I suppose it is a good thing that other communities know that we black women actually like ourselves despite the hell many of us catch for not naturally satisfying dominant standards of beauty that oppose pretty much everything we physically represent.
I do find it interesting that these results are coming out at the same time that Angelina Jolie is being celebrated for being the epitome of beauty at the 84th Annual Academy Awards ceremony held this past weekend. Call me crazy, but she looked like a corpse, sticking out a leg that resembled an arm from her couture dress, which was all the rage.
Simultaneously, Kate Upton has been catching heat from fashion-industry divas for being too "chubby" to be a swimsuit model, despite her celebrated Sports Illustrated cover. Call me crazy again, but Upton looked great on that cover. Add the occasion of Academy Award winner Octavia Spencer being asked about her weight directly after her win for best supporting actress for The Help, and it's clear that we have a body image problem.
Spencer has been outspoken about her weight, opening up to People magazine about it on numerous occasions. She admits that she could stand to lose 15 pounds and knows that she is less valuable in Hollywood at her current weight (and age, I would add). Just before the Academy Awards, Spencer announced that she would be getting a breast lift.
Spencer's desire for a breast lift is far from scandalous. It is a woman's right to augment her body in any way she sees fit, even if she ends up looking like Jessica Rabbit. What is interesting, though, is that despite the recent findings of the Washington Post-Kaiser survey, black female celebrities like Spencer seem to be less than happy with their bodies.
Lil' Kim, Vivica A. Fox and Tamar Braxton have all morphed into Muppet-like figures, looking like shells of their former selves rather than real people. All of the ladies were extremely attractive before undergoing and overdoing plastic surgery. If "civilian" black women are happy with themselves, then what's going on with black celebrities?