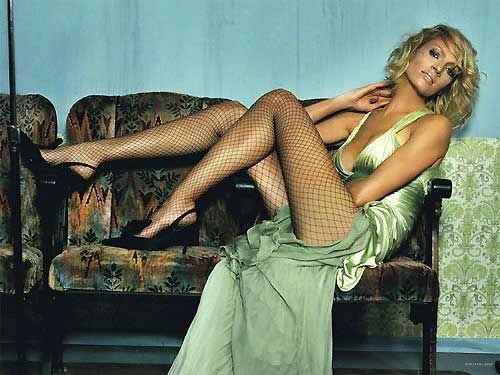 10 Celebrity Moms Pregnant Over 40
Celebrity Baby Scoop reported
Fourty is the new thirty!
Whether they're conceiving the old-fashioned way or getting help from a fertility specialist, more and more celebrities are finding their 40's to be fertile. From Uma Thurman, to Tina Fey, to Céline Dion, to Mariah Carey, take a look at 10 celebrity moms pregnant over 40.
Uma Thurman:
The latest Hollywood star to announce a later-in-life pregnancy is actress Uma Thurman. On Monday, the 41-year-old actress confirmed that she's expecting her first child with financier Arpad Busson.
"She's excited," an insider said. "She's happy and just a few months along right now. She's due in late, late summer."
This will be the third child for Uma, who is already mom to daughter Maya, 13, and son Levon, 10, with ex-husband Ethan Hawke.
Céline Dion:
At 42, singing superstar Céline Dion announced that she and her husband René Angelil, then 68, were expecting twins. The French-Canadian songstress, whose previous IVF attempts had failed, opened up about the exhausting year-long endeavor.
I feel like I've been pregnant more than a year," Céline said. "I never gave up. But I can tell you that it was physically and emotionally exhausting."
On October 23, 2010, the My Heart Will Go On singer gave birth to fraternal twin boys, Nelson and Eddy. The couple are also parents to 11-year-old son René-Charles.
Halle Berry:
Academy Award-winning actress Halle Berry gave birth to her only child, daughter Nahla, when she was 42. Nahla's dad is Berry's ex-boyfriend, model Gabriel Aubrey, with whom she is currently embroiled in a bitter custody battle over their now 3-year-old daughter.
With regard to becoming pregnant in her 40's, Halle said,
When I looked at the stick and saw I was pregnant ... I was so happy. I thought I knew love before, but I never knew anything like this."
Tina Fey:
It was baby bumps galore on the set of 30 Rock! Jane Krakowski wasn't the only over-40 mama-to-be at the popular TV show. The show's creator/writer/star Tina Fey delivered her second child, daughter Penelope Athena, in August 2011 at age 41. The SNL alum chatted about having her second baby later in life.
"I went for my annual checkup and, tired of carrying this anxiety around, burst into tears the moment she said hello," the writer and actress shared in her memoir, Bossypants. "I laid it all out for her, and the main thing I took away from our conversation was the kind of simple observation that only an impartial third party can provide: 'Either way, everything will be fine,'" wrote Tina.
In her book, Tina also admitted that she was "stricken with guilt and panic" every time her daughter, "the only child in her class without a sibling," would say, "I wish I had a baby sister."