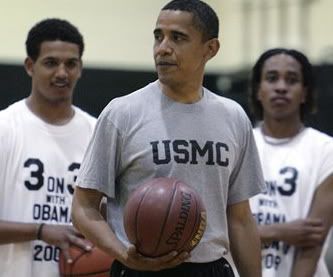 Obama raises cash with NBA celebrities, says GOP presidential candidates ...
Washington Post reported
Reveling in his sporting element, President Barack Obama waded into the oversize embrace of some of the biggest names in professional basketball Thursday, raising money from current and former NBA greats and an intimate group of supporters drawn to this weekend's All-Star game in nearby Orlando.
Obama indulged his NBA habit at the home of Dallas Mavericks guard Vince Carter where about 70 guests gathered for a $30,000-a-person fundraiser. Among those invited were former L.A. Lakers star Earvin "Magic" Johnson, former Miami Heat star Alonzo Mourning and Chris Paul of the Los Angeles Clippers.
Mark Cuban, the Mavericks' owner, and Obama embraced warmly as the president entered.
The group gathered in Carter's gymnasium, with the scoreboard showing 2012 on the clock and the score tied at 44, Obama being the 44th president.
"It's a nice gym," Obama observed, understatedly. "Vince said he left the other side open in case I wanted to get in a dunk contest with him. I told him I didn't bring my sneakers, so not tonight."
Obama thanked NBA Commissioner David Stern, also in attendance, for resolving the basketball lockout that delayed the start of the basketball season.
"I don't know what I would be doing with myself if I at least didn't have some basketball games around," Obama said.
The fundraiser capped a day hauling in campaign cash, taunting Republicans and pushing his energy policy in the face of rising gasoline prices.
Obama, appearing in a state he carried in 2008 and one he may need to win again to hold the White House, cast Republicans as protectors of the wealthy, telling supporters at a fundraiser that the GOP hopefuls seeking his job would leave everyone else to fend for themselves.