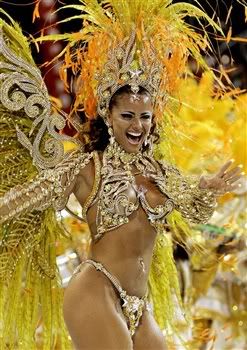 Celebrities join sequin-clad dancers for start of Rio Carnival
Telegraph.co.uk reported
As millions watched the sequin-clad samba dancers at Rio de Janeiro's iconic Carnival parade on Sunday, at least a few eyes turned toward the stars, or at least toward the VIP boxes hosting celebrities such as Jennifer Lopez and Fergie.
The Carnival parade has been attracting top celebrities for much of its 80 years. Many are brought in by attention-hungry Brazilian advertisers hoping to share some of the glow of the world's biggest party.
This year, beer company Brahma was promoting Lopez, while hair care company Head and Shoulders hosted Fergie. Neither planned to actually parade in the all-night-long event, but Lopez waved to the crowd from the VIP seats at the Sambadrome as 13 samba schools joined in a fierce, sweaty competition before a tens of thousands-strong audience.
The numbers of top-tier celebrities in attendance has grown as Brazil's star has risen – particularly since the South American giant was chosen to host the 2014 World Cup and the 2016 summer Olympics.
Recent guests at the two-day-long parade have included Madonna, Beyoncé, Jude Law, Paris Hilton, Pamela Anderson and Kevin Spacey.
Spectators at the Sambadrome were split over the presence of celebrities at Carnival.
"I honestly couldn't care less if there are famous people or not," said Monica Linsay, a 23-year-old university student at the Sambadrome for the first time. "I don't care about marketing ploys. I'm here to watch the parade."
And there is much to watch: Samba soloists who shake into overdrive as soon as the cameras turn on them; dancers dressed as Teletubbies; ambulatory American flags; psychedelic flamingos, complete with stilt legs; vertically challenged jokers brandishing jumbo soccer balls; belly dancers. And that was just one single samba school.
Spectator Ligia Santos said she was happy about the celebrity presence.
"It doesn't matter that these foreign celebrities don't know how to samba or even how the parade works," the retiree said. "It's excellent they're here because it means we're sharing the beauty we have here out to the world. They're going to be bowled over by what we have."