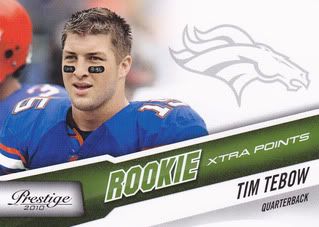 Celebrities Can't Get Enough of Tim Tebow: Top 5 Crushes on Tebow
Yahoo! Sports reported
Tim Tebow may be the hottest thing in football right now, and it is not because of his throwing arm. Women are practically falling over each other to get close to the Denver Broncos quarterback. The Tebow effect is not just a phenomenon with soccer moms throughout the country, many celebrities are hot for Tebow as well.
Here is a look at the top five celebrities rumored to have crushes on Tim Tebow:
Katy Perry
Perry hinted at feelings for Tebow known during a pre-Super Bowl performance where she dedicated a song to him. A Perry-Tebow romance isn't as far-fetched as it sounds. Both come from religious families, and Perry's parents would surely welcome the union with open arms. Tim Tebow has denied the rumors of a relationship between the two, having told a crowd at a Boys and Girls Club event in that there is nothing between the two.
Kim Kardashian
Kardashian may be freshly divorced, but that hasn't stopped the rumors that she may be looking to move on with Tim Tebow. Kim has a history of dating famous athletes, so a crush on Tim Tebow doesn't seem that out of the ordinary for her. One person close to Tebow summed up his feelings for the reality star who is "saving himself for marriage and is looking for a woman with similar values, not someone with two failed marriages and a sex tape in her past."