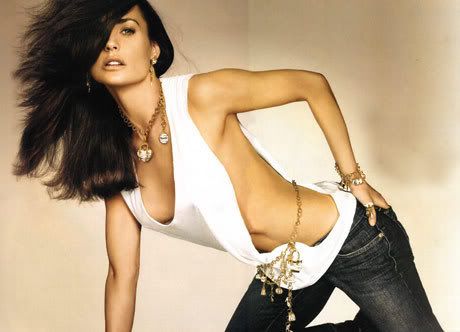 Women celebrities fighting anorexia while serving as teen role models
HULIQ reported
Hollywood stars such as Courteney Cox, Portia de Rossi, Allegra Versace Beck, Calista Flockhart and Demi Moore have spent a lot of time stating they are not anorexic; yet appearing on TV with bone thin arms and legs, and gaunt faces.
"She used to be so beautiful and healthy looking," said The View co-host Joy Behar Jan. 25 about recent photos of 49-year-old actress Demi Moore who is said to be suffering from the so-called "Hollywood woman disease" anorexia nervosa after Moore – looking scary skinny – was rushed to a Hollywood area hospital after a 911 call over a drug overdose. In turn, the same Hollywood star machine that almost forbids women celebrities to gain weight is having a field day by speculating on how bad Demi's battle with the eating disorder anorexia really is, and then showing photos of Moore in healthier days from such films as the 1996 sex comedy "Striptease" when Moore bared all, showing off a healthy woman's body.
Women celebrities suffering from not eating
A recent Google search of Hollywood celebrities and the word "anorexic" reveals more than four million references and examples; including the headlines: "Courteney Cox Rages Over Anorexia Claims," and actress Portia de Rossi crediting her "wife" Ellen DeGeneres with "saving her from anorexia," and "20-year-old Allegra Versace Beck being hospitalized after years of battling the eating disorder."
At the same time, there's Hollywood news reported that Alley McBeal star Calista Flockhart "admitted she suffered from anorexia while filming the hit TV comedy, after years of claiming her skinny figure was due to being small-boned."
And, there's former child star Tracey Gold who's made it her life mission to tell the world about her battle with the eating disorder anorexia, and now working to help teens and other women who've fallen into the trap that "one can never be too skinny" in Hollywood or in today's society where "thin is in, baby."
Demi Moore's battle to stay thin
Thanks to Hollywood movie stars such as Demi Moore and others getting in trouble with their weight, health experts say that "anorexia nervosa" is now more exposed in today's celebrity focused era – with celebrities such as Angelina Jolie, Madonna and Sarah Jessica Parker showing off their new muscled arms and super-thin figures – that the "disease is now more open in our society than it's ever been."
For instance, recent photos of Moore looking pencil-slim and sad are included with various TV "entertainment" reports Jan. 26 that Moore is being treated for both "substance abuse and anorexia."
In turn, health experts -- who treat the condition known as anorexia nervosa -- state that when top stars such as Moore become ill due to their extreme dieting lifestyle, that it's an "education opportunity" for parents of young teen girls and women to acknowledge that Hollywood does play a role in their lives because many young women emulate their looks by following the lead of their favorite stars.
At the same time, health experts such as Dr. Oz and other medical experts who appear on TV state that the image of being super thin like Moore is today is both "unrealistic and unattainable," for most young women who simply can't get into a size zero dress -- like Moore and other super-thin celebrities -- and remain healthy.
Also, Hollywood stars have their own chefs, personal trainers and fully equipped gyms and even indoor swimming pools so they can work out daily to remain as thin as Hollywood demands them to be; while knowing that "being on TV adds 10 pounds" and other Hollywood myths that keep women celebrities mindful of remaining thin if they want to work in TV and movies.