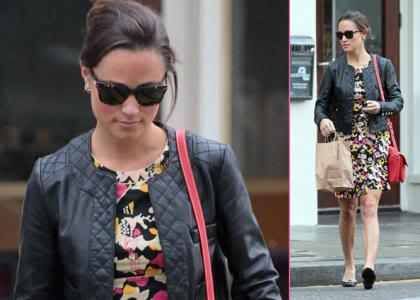 Poor Pippa Middleton. She's the object of our fantasies and then ...
The Guardian reported
People are being shot and gassed in Egypt, but what about the fears that Pippa Middleton is "undateable"? Christ, I can hardly sleep. I mean, she has it all: a bottom, a princess of a sister, a collection of frocks. But she has no job, no bloke and she has to go to weddings every weekend. The seventh circle of hell.
If forced to take a punt on whether she will ever get a boyfriend, I would go with a tentative "yes", perhaps because oddly I know "stuff" about her. So I do feel for her. Real life must be difficult, when one has whole websites dedicated to one's posterior. When conceptual artists/confused fantasists are writing songs called I Know What Pippa Middleton Is Thinking.
Actually, real life just is just a drag full stop, hence our "need" for celebrities. We need to name and shame and identify with them in tabloid terms. Or, in psychoanalytic speak, we project and then punish those on whom we have projected our fantasies.
The fantasy of the royal wedding was just a daft overblown circus of mediocrity to take our minds off the reality of a depressing economy. But, in Pippa, it provided another woman whom it's OK to lech over publicly. Not at all creepy? Fearne Cotton introduced girl group the Saturdays on Children in Need as something "for the dads". Kill me now.
Anyway, the bridesmaid who usurped the bride is blandly pretty in the way all women have to be now. Long hair, even features, slim, breasts and bottom obligingly show-cased. Actually, the Middleton sisters dress as if middle-aged, but I am middle-aged and have no class, so what do I know? Pippa "plans parties", which to me is something you do after work. Now she is single; and Grazia, a mag I like usually, has her reportedly fearing she is "too royal" and "undateable". A while back she was having too much fun, so that was bound to end badly as, in celeb world, all female enjoyment has to be paid for by "dramatic weight loss" and loneliness. Indeed, the Karmic Law of Fame and Femininity is inscribed in Sanskrit on the inner thigh of every tabloid editor.
Grazia, normally on the side of women, also has Angelina Jolie living on about 10 calories (the eternal punishment for stealing Brad Pitt from that other poor victim, the beautiful, successful millionaire Jennifer Aniston). Demi Moore (no relation) is, of course also painfully thin because her younger husband may have cheated on her, though she has kept herself honed and toned since 1849. Elsewhere, I see Madonna is giving up her addiction to Botox, well known as the opiate of the mavens.
At some point, all these women may eat something and then "flaunt their enviable curves" a) because that is their job and b) because people will want to read about it. If they "let themselves go" they will be first in the firing squad of the paparazzi, many of these guys employed by international agencies.