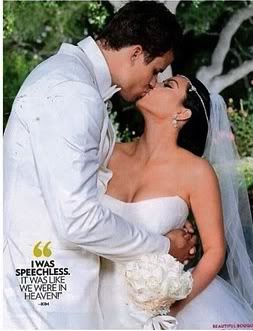 Narcissists want weddings, not marriage
CNN reported
When Kim Kardashian announced her engagement to basketball player Kris Humphries, a public hype began that was only formerly rivaled by the royal wedding in April.
This heralded event was to be America's own version of the royal wedding, if only in terms of build-up and opulence. Now, 72 days later, the relationship has been given an equally public ending, the wedding fanfare forgotten and replaced with public humiliation.
For celebrities, this kind of entanglement and collapse happens frequently and in the all-knowing eye of the public spotlight. But our own relationships are heading into a similar tailspin due to one common factor: narcissism, according to psychotherapist and divorce coach Micki McWade.
Shows like "Bridezillas" and "Say Yes to the Dress" have encouraged a cultural fascination with weddings, but it is our own entitlement that causes us to obsess over a one-day event. While couples are waiting to get married until their late 20s and early 30s, they may rush into the engagement and wedding planning, McWade said.
"We all have a degree of narcissism," McWade said. "It can be triggered by an event like this; then people get very warped."
Not every wedding turns into a narcissistic circus, and they aren't all about the expense.