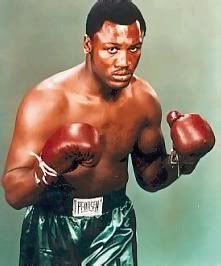 EIGHINGER: Deaths of celebrities, athletes can be like losing an old friend
Quincy Herald Whig reported
When I was watching Monday Night Football last week, I quickly lost track of what was unfolding on the screen after the announcement came that Joe Frazier had died earlier that evening.
The former heavyweight boxing champ had lost a battle with liver cancer. The final image of Smokin' Joe -- forever remembered for his three bouts with Muhammad Ali, including the Thrilla in Manila -- was that of an aged fighter, looking quite frail. His once dynamic features were a shell of what they once were, framed by what had been a graying beard and thick, salt-and-pepper hair.
Guys like Joe Frazier were never supposed to grow old, let alone die. We always come to the realization that figures we once thought invincible, for whatever reason, are not. We often place personalities and athletes on an unfair pedestal, and that's why their deaths can affect us much like the loss of a loved one or close friend.
In many ways, people we grow up watching on TV or musicians we become fans of actually do become our "friends." And I have no problem admitting that, because without them, our lives would be a little less enjoyable. At least mine would.
I have already told my wife that the day Rod Stewart passes on, I'm going to need a period of mourning. After all, I have enjoyed his music for more than 40 years (since August 1971, but who's counting?), which is longer than I have been married.
The crazy thing is, after all of these years, I think my wife now understands and accepts that. I know that daughter Kaysi does, at least according to a recent Facebook posting of hers. She thanked her dad -- that would be me -- for introducing her to a love of sports, Classic Coca-Cola and the music of Rod Stewart. That was actually one of the nicest things anyone ever said to me.
Frazier's death has not been the only recent passing that made me feel like I had lost a friend, that made me stop and think about where all the years have gone. Just in the last few months, I feel like I have lost several other close friends, ones whom I have never met, yet made my life richer nonetheless: