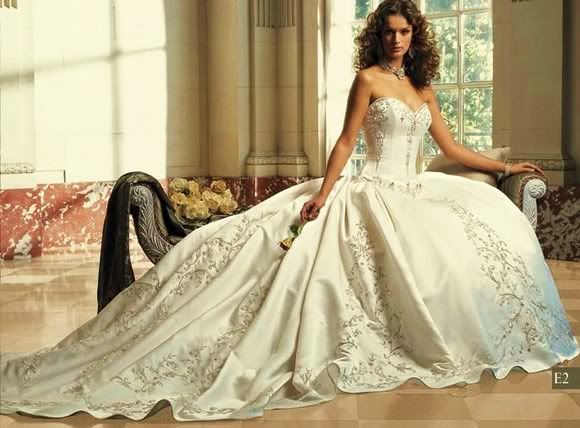 A dress all their own: Whether influenced by celebrities, or ...
Fall River Herald News reported
When Kate Middleton walked down the aisle, many would-be princesses had an aha moment and decided their wedding dress would mimic her look.
"We do get more people looking for some kind of sleeve," says Suzanne Ferreira of Gilda's Place of Bridals in Fall River. She said a few weeks after the royal wedding, she received her copy of the dress and several brides-to-be were interested.
Ferreira, a longtime Gilda's employee who bought the boutique earlier this year, has her own opinion of Princess Kate's dress. "Did she look beautiful? Yes, she did," she says, adding that she would have done something a little different. "I wouldn't have done the deep V. I would have done more of a boatneck to show off her collarbone."
But that's really what Ferreira specializes in at Gilda's, where they custom-make a lot of dresses."We like to play," Ferreira says. "We take what you have and make it into what you imagine."
She says brides will often come in with an idea of what they want, but when they try on the dress they decide it could use some tweaking. "We can make changes based on style," Ferreira explains. "We enjoy doing it because it makes it your own."
While brides are borrowing trends from other celebrities, like Kim Kardashian, Ferreira is also seeing a lot of "Mad Men" or Jackie Onassis looks from the 1960s. And one particular celebrity trend — having one gown for the ceremony and then another, more party-like dress for the reception — is really starting to take hold locally.
"I have one bride who has three different dresses, one for the ceremony, one for the reception and one going-away outfit," says Ferreira. In fact, she has had a few brides who are using pieces of their mothers' wedding gowns and incorporating it into the going-away ensemble. "After all, the moms saved [their gowns] for all these years!"