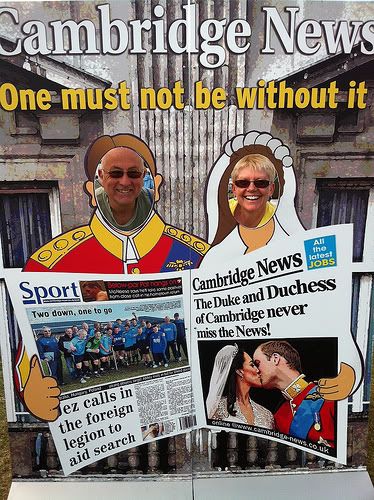 Duke William and his new wife, the Duchess of Cambridge, began their first official foreign trip as a married couple today in Canada - a nine-day tour that includes road hockey and a visit to a cowboy rodeo.
The couple arrived in the capital city Ottawa and laid a wreath at the National War Memorial with Prime Minister Stephen Harper, then spent a half-hour chatting with veterans and people lining the streets before meeting Governor General David Johnston.
"We are truly looking forward to this adventure," William said in a brief speech at Johnston's official residence. Delivering about half his speech in French, he said, "we could not be better accompanied than by the great Canadian family," then joked about his ability to speak French by saying "it will improve as we go on."
The couple will attend events related to Canada Day, the anniversary of the country's creation in 1867 under Queen Victoria. Crowds on Parliament Hill could top the 2008 total of 460,000 estimated by the National Capital Commission, which is responsible for promoting the Ottawa region. "We are always prepared for best possible crowd turnout," said Denise LeBlanc, a spokeswoman for the commission.
The government published a 106-page media guide for the tour, which will be covered by more than 1,400 journalists. Most downtown hotels in Ottawa sold out "many weeks ago," said Ottawa Tourism spokeswoman Jantine Van Kregten. "The royal visit has sent interest through the roof."