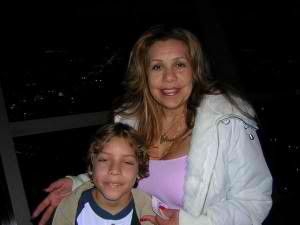 Mildred Baena has revealed how she told Maria Shriver that Arnold Schwarzenegger was fathered her son, Joseph. She was a member of former California Gov. Arnold Schwarzenegger's household staff for 20 years.
"Last summer, I brought Joseph over to the house. Until then, he hadn't been around very much," Baena said in an exclusive interview with Hello magazine. "After that, people in the house started whispering about how much they looked like each other."
The first lady of California was among those who noticed a resemblance. Baena continued: "Maria would ask if I needed to talk to her, and I kept saying no. Finally, she asked point blank. Maria asked me directly if Joseph was Arnold's son, and I just broke down. I dropped to my knees and I was crying, saying that yes he was and I was so sorry," said Baena, who worked for the Schwarzenegger's as a housekeeper, in the interview.
Shriver's reaction was compassionate.
"She cried with me and told me to get off my knees," Baena says of Shriver. "Since I was retiring soon, I said I would pack and leave right away, but she said to stay until after the holidays."
Baena told Hello that when Joseph learned that Schwarzenegger was his father, he said, simply, "Cool!"
Baena says she never told Schwarzenegger that Joseph was his, but, "he's a good man and I know he's suffering too. He loves Maria. I hope with time they work things out."