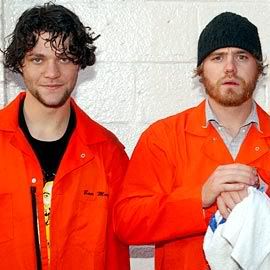 Police say "Jackass" star Ryan Dunn died in a car crash in suburban Philadelphia early Monday morning.
The 34-year-old Dunn and an unidentified person both died in the crash which happened around 3 a.m. at Route 322 and New Street in West Goshen Township, Pa. TMZ earlier confirmed the accident with the mother of fellow "Jackass" star Bam Margera.
Police say Dunn's 2007 Porsche 911 GT3 was "off the road and in the woods" and the car was "fully engulfed in flames," according to TMZ and The Associated Press. Authorities also say speed may have been a factor.
Dunn appeared in all of the "Jackass" movies and had two separate films in post-production and another in development, according to the IMDB.